We are building the best audio
file sharing

project management

app possible
Secure file sharing
Clear client communication
Unbeatable rates
Tools you won't find anywhere else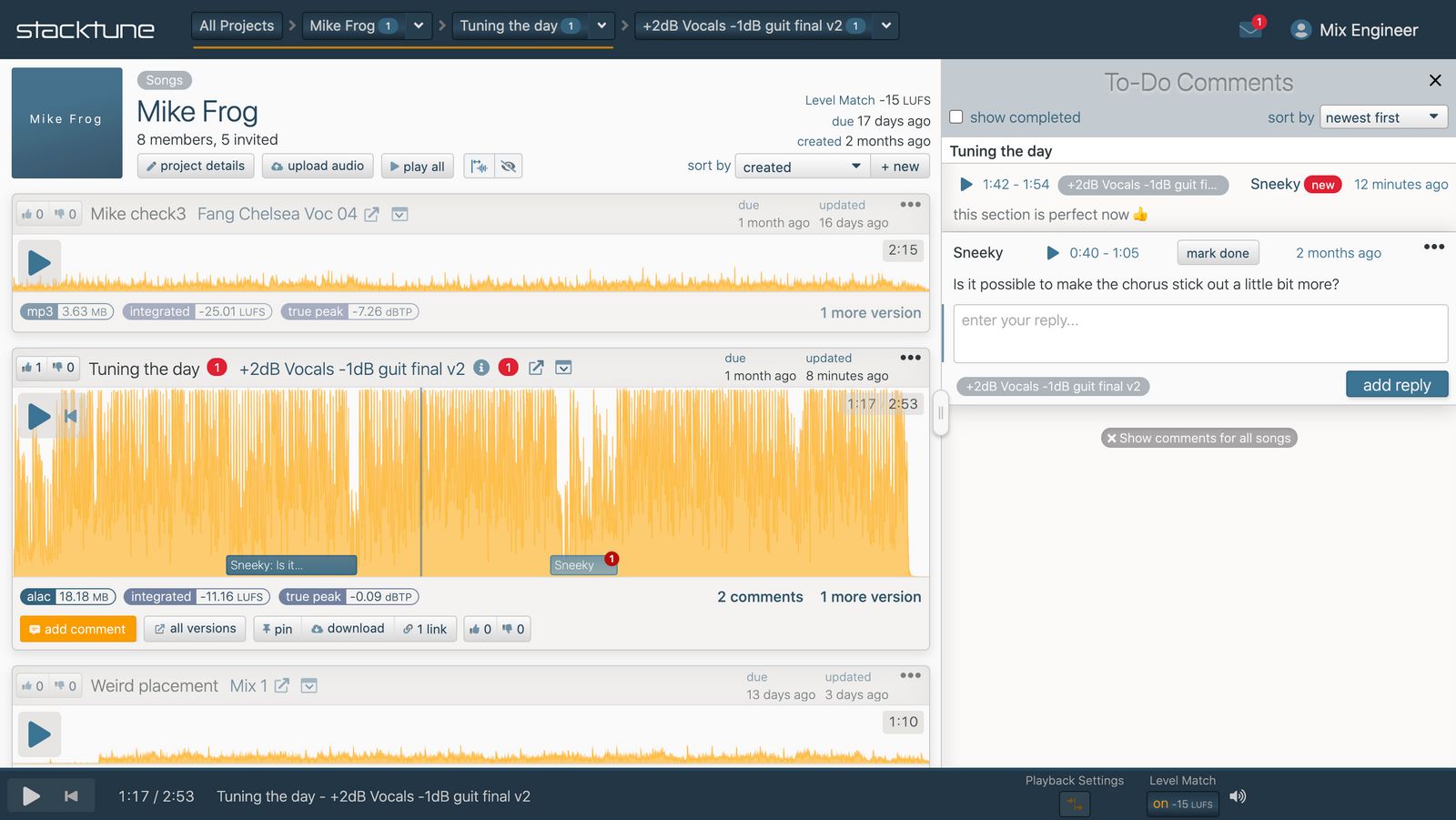 Comparing audio files is hard
Don't waste your time doing repetitive work. We automate all the time-consuming tasks like level matching and aligning versions, making it easy to compare different mixes reliably. Figuring out the differences between versions 3 and 5? Eliminate the guesswork with Stacktune.
---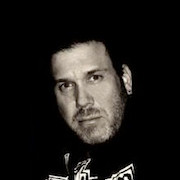 "Stacktune has been a game changer for my workflow with clients"
Mike Rogers - Deee-Lite / Erasure / Sinead O'Connor / Graham Nash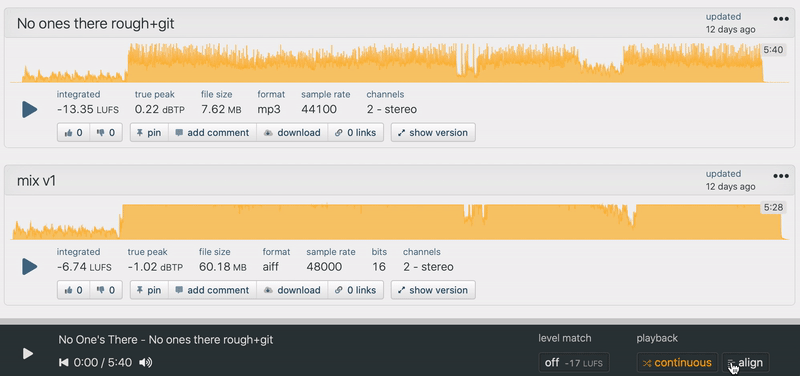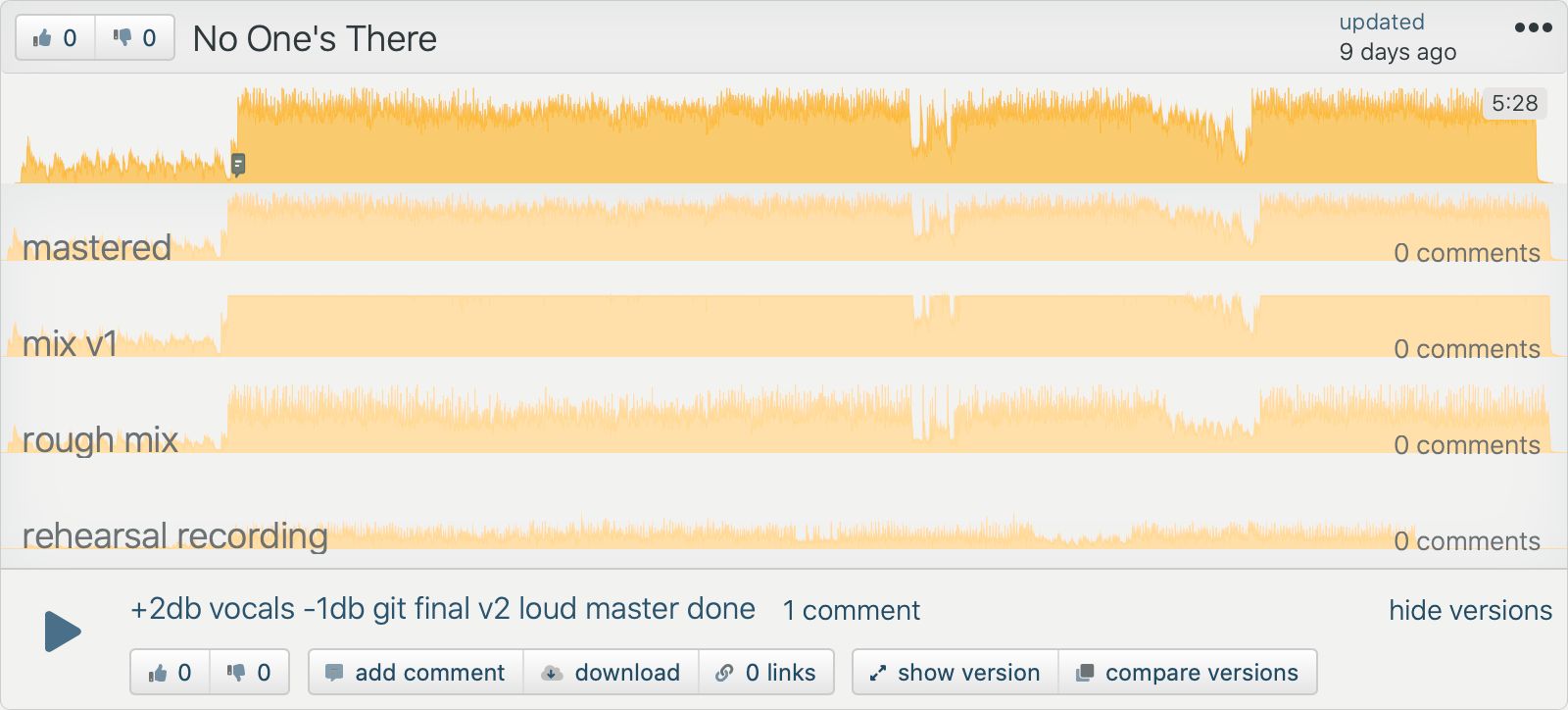 Don't lose track of your files and feedback
Keep track of each version of songs in your projects - and all the comments and requests. Everything well organized in one place, and with email notifications, you'll never miss a beat.
---

"If you're not using Stacktune, you are wasting time"
Dax Liniere - sleepmakeswaves / Cascade / Jordan Millar
Capture precise feedback with time-stamped comments
Whether it's a point in time, a region or a general comment, Stacktune is the perfect tool for your clients and bandmates to submit precise feedback or changes. No more guessing what someone is talking about.
---

"Managing feedback with Stacktune has saved me so much time."
Gijs van Klooster - Erykah Badu / Joep Beving / Michele Bravi / Tom Trago
Keep track of all your progress
Comments and feedback turn into an automatically updating to-do list, so you always know what needs to be done to finish a project. When selecting a song or version, the list also focuses on relevant items only.
---
"Stacktune is a godsend for comparing files with minor differences"
Jimmy Deer - Billboard #1 / Seal / India.Arie / Three 6 Mafia
Collect feedback from anyone - without all the hassle
Public Version Pages enable you to collect feedback without the need to invite members to your project. Simply share a link using your favorite messenger or social media. Anyone who knows the link can leave feedback - even if they don't have a Stacktune account.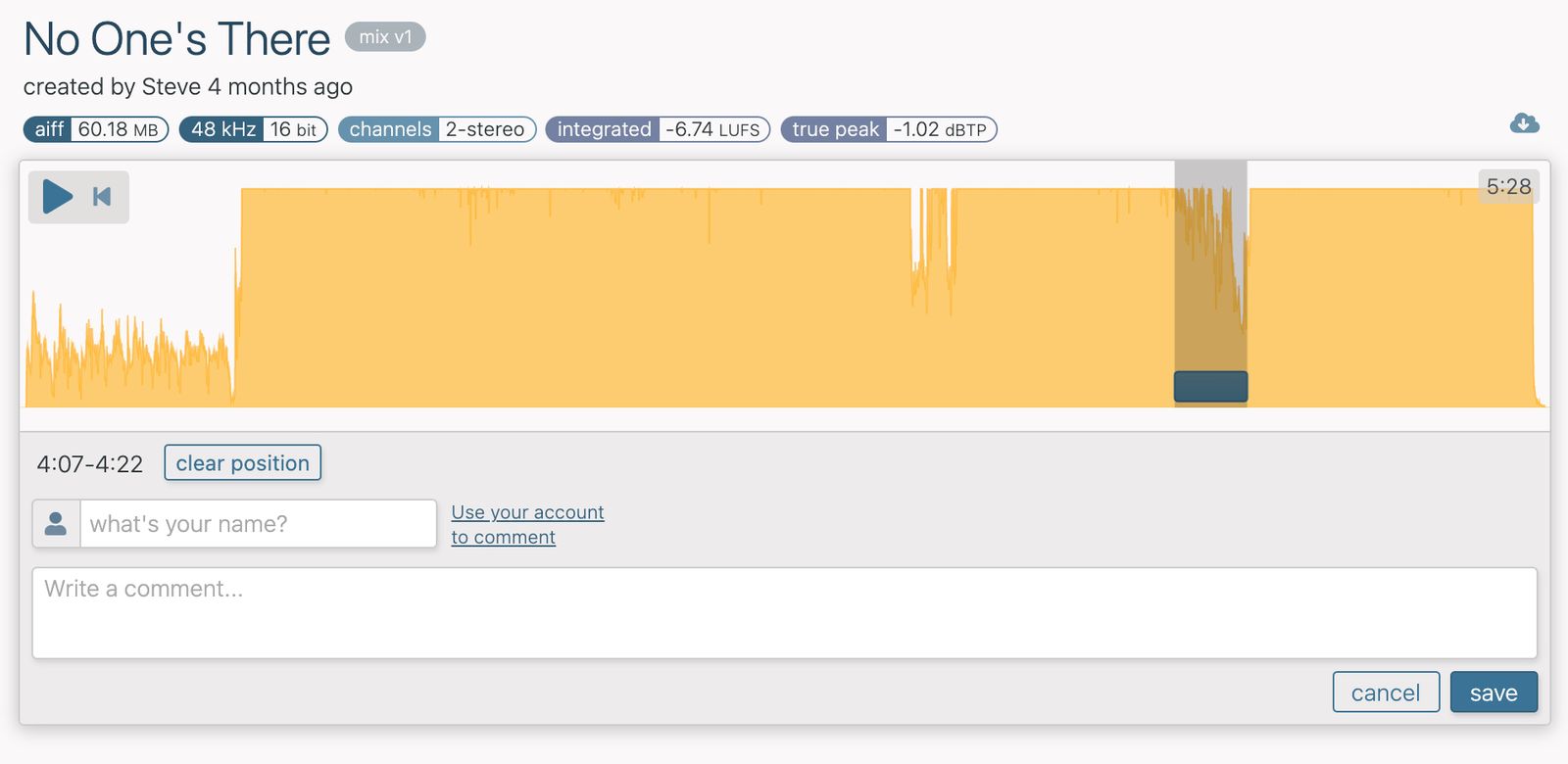 Features
Level match

Is the louder one better or just louder? Don't get fooled by loudness differences.

Auto align

Different mixes start with a different length of silence? Let us fix that for you!

Full mobile support

Enables you to easily check your mixes in different environments

Smart upload

Drag and drop your mixes; Our intelligent file upload automatically finds the right song

Invite members

Enter an email address and we'll take care of everything - or create links to share via your favorite messenger

Blazing fast uploads

Securely upload to a server close to your physical location

Share versions via link

Need to quickly share a mix? Just create a link.

Reliable & secure file sharing

99.99% uptime
100% TLS encrypted
0% spam

We're here to help

Have an idea to improve your workflow? Let us know!
See our
roadmap
of upcoming features
Stop wasting your time with file-sharing services that aren't made for the audio world.
Efficiently collect feedback and manage your client communication.
Risk-free 30 day trial.