The one app you did not know you were missing as a

recording studio

mix engineer

mastering engineer

band

musician
Audio Feedback & Project Management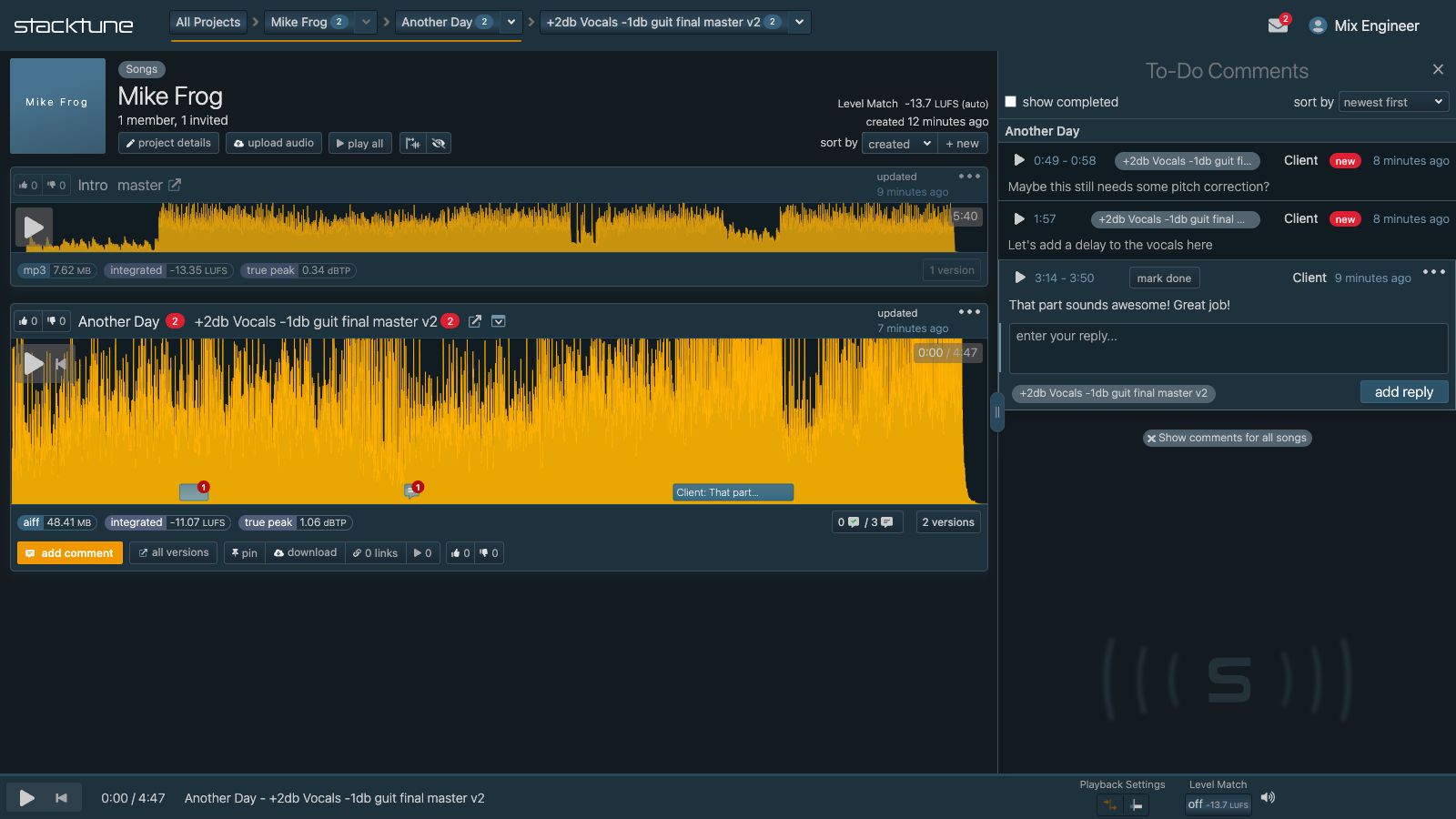 Stacktune provides secure collaboration spaces for your audio projects that enable you to manage all your data in a centralized place. Whether it's sharing the newest mix or master with clients, distributing rehearsal recordings to your bandmates, or sending your song to promoters, managers, and record labels - Stacktune has you covered.
Managing feedback and tracking to-do items becomes a breeze with timestamped comments. And for daily tasks like comparing different versions, Stacktune ships with a multitude of helpful tools, like level matching.
Capture precise feedback with time-stamped comments
Whether it's a point in time, a region or a general comment, Stacktune is the perfect tool for your clients and bandmates to submit precise feedback or changes. No more guessing what someone is talking about.
---

"Managing feedback with Stacktune has saved me so much time."
Gijs van Klooster - Erykah Badu / Joep Beving / Michele Bravi / Tom Trago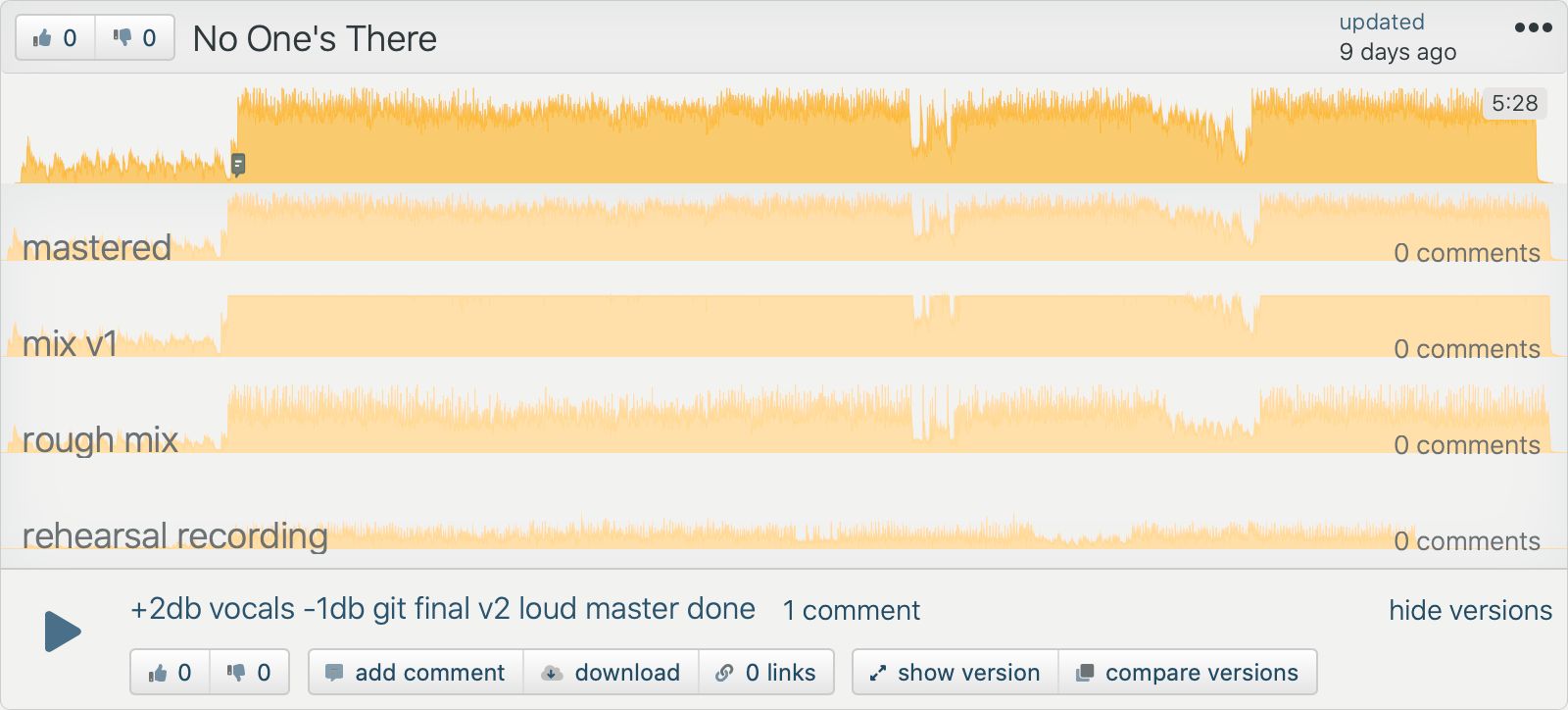 All your files and feedback in one place
Keep track of each version of songs in your projects - and all the comments and requests. Everything well organized in one place, and with email notifications, you'll never miss a beat.
---

"If you're not using Stacktune, you are wasting time"
Dax Liniere - sleepmakeswaves / Cascade / Jordan Millar
Comparing audio files never has been that easy
Don't waste your time doing repetitive work. We automate all the time-consuming tasks like level matching and aligning versions, making it easy to compare different mixes reliably. Figuring out the differences between versions 3 and 5? Eliminate the guesswork with Stacktune.
---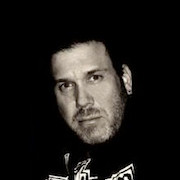 "Stacktune has been a game changer for my workflow with clients"
Mike Rogers - Deee-Lite / Erasure / Sinead O'Connor / Graham Nash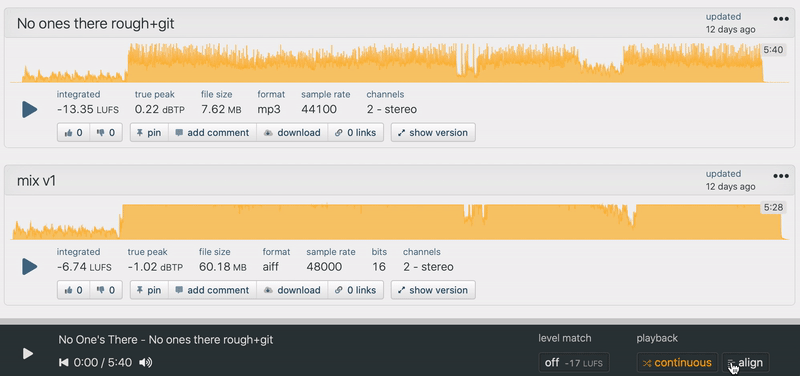 Keep track of all your progress
Comments and feedback turn into an automatically updating to-do list, so you always know what needs to be done to finish a project. When selecting a song or version, the list also focuses on relevant items only.
---
"Stacktune is a godsend for comparing files with minor differences"
Jimmy Deer - Billboard #1 / Seal / India.Arie / Three 6 Mafia
Collect feedback from anyone - without all the hassle
Public Version Pages enable you to collect feedback without the need to invite members to your project. Simply share a link using your favorite messenger or social media. Anyone who knows the link can leave feedback - even if they don't have a Stacktune account.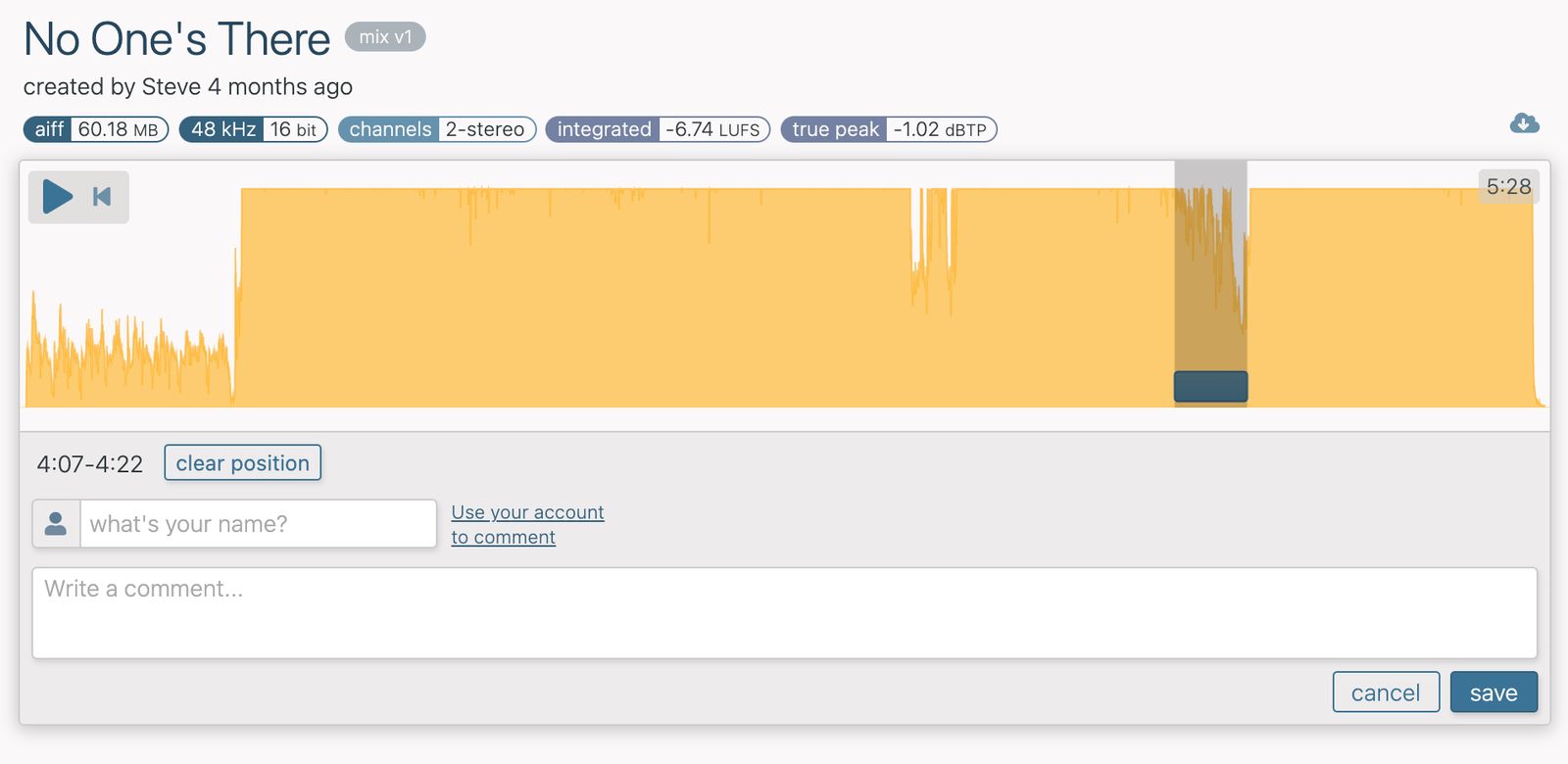 Features
Level match

Is the louder one better or just louder? Don't get fooled by loudness differences.

Auto align

Different mixes start with a different length of silence? Let us fix that for you!

Full mobile support

Enables you to easily check your mixes in different environments

Smart upload

Drag and drop your mixes; Our intelligent file upload automatically finds the right song

Invite members

Enter an email address and we'll take care of everything - or create links to share via your favorite messenger

Blazing fast uploads

Securely upload to a server close to your physical location

Share versions via link

Need to quickly share a mix? Just create a link.

Reliable & secure file sharing

99.99% uptime
100% TLS encrypted
0% spam

We're here to help

Have an idea to improve your workflow? Let us know!
Stop wasting your time with file-sharing services that aren't made for the audio world.
Efficiently collect feedback and manage your client communication.
Risk-free 30 day trial.